Please note: This story was originally published in 2018. The businesses featured below are committed to operating responsibly through the pandemic which might mean limited in-store access, reduced hours, or curb-side pick-up only. Check in with each business in advance of your visit to avoid disappointment.
---
Story: Mike Hector
Photography: Heidi Csernak
My name is Mike Hector - and for the past two years, I've been travelling throughout Ontario with my wife Heidi. Together, we create experiential stories about the diverse selection of destinations, activities and natural features that make Ontario such an amazing place to work, play and live. When Heidi and I sat down with The County of Frontenac to collaborate on a series of experience-driven blogs, we were bursting at the seams with excitement and ideas.
Over the next few months, Heidi and I will be braving the wonderful wilds of Frontenac County and sharing our stories right here on inFrontenac.ca!
For our first adventure, we set our sights on the fabled natural paradise of North Frontenac - which is a particularly gorgeous part of Ontario's Highlands. Situated within a few hours drive from Toronto or Montreal - and even closer to Ottawa - North Frontenac is an ideal destination for staycationers looking to put the urban chaos in their rear-view.
The Journey North
Rain, along with an ominous overcast sky greeted us as we ventured North from our home in Kingston. Our destination was Ompah Ontario which is 32 Km North of Sharbot Lake. Despite the elements' best efforts, the drive was still quite beautiful, the vibrant green spectrum of colour from the leaves providing their own light, in the seeming absence of the sun.
It's impossible to deny the magnificence of the forest when it's in full bloom. The very notion of winter was all but deleted from my consciousness. Everywhere I looked, my eyes were filled with one breathtaking view after another. Rolling rural fields, crystalline streams, lakes and that so very welcome glow of summer's hastened approach.
We had intended to start the day with a short hike along the Crow and Trillium trails located at Palmerston Canonto Conservation Area - to check out some reportedly spectacular views from the elevated Lakeview Lookout. The rain had lightened by the time we arrived at the Palmerston Lake boat launch, so we decided to scope out the nearby trails.
We ventured a few hundred meters into the trail, to get an idea of the terrain, and a feel for the hike. Beneath the forest canopy the overcast day seemed to vanish amid the bright emerald glow of the leaves and foliage. Although the surrounding area was visually magnificent - we decided to return the following day, optimistic that we would find fairer weather.
The next day's forecast showed promise - and we wanted to take in the panoramic view of the lakes from the lookout on a day that would be better suited for photography. Speaking of photos, the low lighting made for some brilliant images. The forest floor was laden with multitude of beautiful trilliums, each wildflower seeming to cast a mystical light of their own on such an otherwise grey morning.
Retreat to The Silent Valley!
A short drive from Palmerston Lake brought us to the location of our lodgings for the night at Silent Valley Alpaca - a picturesque family owned ranch with a cozy rental cottage on-site. Situated on a charming acreage situated in the immaculate wilderness of North Frontenac - Silent Valley Alpaca is a functioning ranch, producing Alpaca wool as well as attending shows and competitions.
The cottage itself is a fantastic four-season dwelling where you can go glamping in style without breaking the bank. The charming cabin consists of three bedrooms, a full (3pc) bathroom and fully equipped kitchen. The master bedroom sports a King sized bed, while the other rooms both feature queen-size beds. The living area employs a social open concept layout, with a seating area and wood stove for chilly nights.
What's better, is that the property also sports a playground, making this an ideal option for family cottaging trips.
Owners Robert and Hanne Quigley have built a unique and fascinating living for themselves - raising and breeding these intriguing animals. Close relatives of the Llama and Camel, Alpacas originally hail from South America and are thought to have been originally domesticated by the ancient people of the Andes (Peru) - and were a primary livestock of The Inca Empire.
It's fascinating to think that Alpaca fleece was first processed into clothing and fabrics over five thousand years ago. Alpacas are a very docile and social animal that is happiest when in the company of their fellow kind. There's a distinct tranquillity in their gaze and adorable faces that only a creature so gentle could possess.
A Delicious DIY Dinner
While Heidi and I love dining out, we both share a love of cooking and exploring our culinary creativity. Before arriving in Ompah, we stopped at the North of 7 Market & Restaurant in Plevna, Ontario. The restaurant was closed, but we did manage to pick up some rather juicy looking top sirloin steaks, greens and other essential supplies most of which came from local producers.
I made full use of the BBQ located just outside our cottage and happily grilled the steaks with a primal sense of satisfaction. While I tended to glorious sizzle of our steaks, Heidi was busy in the kitchen, preparing some delicious treasures of her own.
Our combined efforts quickly revealed tasty rewards, as we sat down to dinner. To accompany our tender steaks, Heidi had prepared a small batch of her famous twice-baked potatoes stuffed with a mixture of mashed potato, sauteed onions, fresh chives (from our garden at home) chopped bacon and finished under the broiler with a generous layer of mozzarella cheese.
To add colour and a healthy portion of greens to our supper Heidi also included a pair of lovely salads consisting of fresh grape tomatoes and field greens from The North of 7 Market.
Gazing Into The Cosmos in North Frontenac
As we were finishing our meal, the weather outside had miraculously began to improve, and the once thick cloud cover was thinning, revealing the splendid blue sky we were missing throughout the day. We also received an email from local astronomer and dark sky photographer Tim Trentadue saying that he would be setting up at the North Frontenac Dark Sky Preserve that very night.
Tim is a familiar face at the monthly dark sky viewing events in North Frontenac and the surrounding area. He is a wealth of information and knowledge about our solar system and beyond. He usually brings his impressive deep sky telescope letting other stargazers get an up close look at our neighbouring planet and other amazing features of our galaxy.
We arrived at the North Frontenac Dark Sky Preserve, and the once thick clouds had completely vanished leaving a brilliant twilight sky overhead. Tim was already on site, and in the midst of setting up his impressive telescope and preparing for a night of stargazing. As the sky darkened, and the sun slipped below the Western horizon, we were already able to spot a few planets with the naked eye - thanks of course to Tim's help pointing them out. Once night had fallen, Tim was kind enough to let us take a look through his telescope. We were able to get an incredibly detailed look at the moon - revealing a mind-blowingly detailed glimpse at the barren and crater-filled surface. Once you see it "up close" you instantly become aware of the countless meteor impacts that have pulverized the moon throughout time.
Tim also positioned his telescope to give us a solid look at Jupiter - and despite some atmospheric blur between us and the planet, we were able to make out a few of the gas giant's moons (satellites) as well as the famous Great Red Spot.
There is an incredible and humbling sensation to stargazing. Similar to staring out at the ocean, it made me fully aware of just how small we really are. That despite the seeming complications of carbon-based life - there is a vast and perplexing universe out there, and that we are both insignificant and elemental of its enormity.
Perhaps, there was a trio of beings on one of those distant worlds looking back at our planet, pondering whether or not there's intelligent life out there.
It was great to meet Tim, and chat with him about all manner of topics ranging from astrology to science and science fiction. One can't help but explore such expansive subject matter while standing before the infinite expanse of the stars. For this story, Tim was kind enough to share a few of his photos taken at The North Frontenac Dark Sky Preserve (see below). For more of his amazing work check out his flickr page!
Images above by Tim Trentadue
For information on future events, it's also worthwhile to bookmark the North Frontenac Dark Sky website and follow them on Facebook!
S'Mores Before Bed?
After returning our cottage at Silent Valley Alpaca, Heidi quickly set to work on creating a culinary treat that holds a special place in North American culture. A staple tradition of cottaging, camping and summer fun. That's right. I'm talking about S'Mores, the amazing culmination of graham crackers, marshmallow, chocolate, and heat.
S'mores are a cult classic and universally enjoyed cultural phenomenon with direct roots to our collective psyche. Their enigmatic and #foodie fabled origin is a subject of heated debate, but I think we can all agree that they are freakin' awesome. Heidi makes them in the oven which might draw criticism from certain S'more purists - but, it's the best way to produce a truly photogenic end result. I'll let Heidi's photo speak for itself.
Tour of Silent Valley Alpaca Shop
The next day, we awoke to a bright and shimmering dawn. Once again, the forces of nature favoured us - and the grim overcast weather was now a thing of the past. We quickly set to work tidying up, making sure dishes were clean and got ready to take another swing at the trails we had attempted the day before.
As we were loading up our car, we ran into Robert, who offered to give us a tour of Silent Valley's retail store. The shop is located in an outbuilding that was once a functioning granary. Inside is a quaint boutique offering a selection of wonderful hand-made Alpaca-wool products, yarn, scarves and clothing.
A Spellbinding Glimpse of Antoine Lake
Also located on Silent Valley's property is an old abandoned concession line (service road) that leads to the secluded and private Antoine Lake. It's an easy 1.5 km walk - but would be quite rugged for a small car or sedan. A truck or 4X4 could easily traverse the road, but it's best to consult with Robert before attempting to drive it as some portions can be muddy.
If you decide to hike the distance, your brief walk will be rewarded with an enchanting view once you reach the lake access. If you bring a canoe, you could easily portage from the ranch, and enjoy a serene paddle on this private and immaculate lake.
Palmerston Canonto Conservation Area - Round 2
Emboldened by the warming weather, Heidi and I returned to Palmerston Canonto Conservation Area to have another go at the trails we had attempted the day before. The sun was shining bright, and a steady breeze was blowing - which were all good signs. Before heading to the Crow Trail from the Palmerston Lake boat-launch we had to take a moment to appreciate the majestic view of.
The iconic pine trees, glistening water, and striking blue sky were absolutely stunning to take in. There was a gentle, yet cool breeze coming off the water, so we made our way to the trail access with the wind at our backs and begin our mini-hike.
This time, the warm sunlight was breaking through the forest canopy in shafts of divine light, while the cool breeze made for some ideal trail conditions. It was as we roamed about the trails that I was reminded, or rather my soul was reintroduced to the blissful disconnect that occurs when when we reconnect with nature.
The curious conundrums of the urban expanse become an afterthought amid the chorus of singing birds, and the sound of the wind as it meanders throughout the trees, rustling the leaves as though the earth itself is telling you to "just breathe."
Our visually captivating hike along the Crow trail took us to the connecting (and aptly named) Trillium Trail which we followed to the scenic lookout that overlooks Palmerston Lake and Canonto Lake. At times, we had to take care not to literally step on the thousands of trilliums and other wildflowers as we made our way to the lookout point above.
The surrounding beauty was like something from a dream.
The view from the Lakeview Lookout is a truly stunning vision, offering plenty of great photo opportunities. There's also a picnic table up there - making this an extraordinary spot to enjoy a scenic lunch overlooking the two lakes. Moments like this are why this region never ceases to amaze me. There are so many unique ways to explore Frontenac County and discover an entire world of endless perspectives and experiences.
Some Good ol' Fashioned Irish Hospitality
As we made our way home, we made one last shop in Plevna at the Shamrock Bakery. I had heard local legends of the delicious treasures being created here - and had to investigate. The bakery was technically closed when we arrived, but we had reached out to the Shamrock's owner and head chef Nuala Gartlan beforehand.
Nuala greeted us as we arrived, and welcomed us into her cozy cafe and bakery. Nuala is something of a legend in the area, serving up a delicious variety of dishes ranging from butter tarts, to shepherds pie, jerk chicken and well beyond. As we were shooting photos of the cafe, Nuala offered us each a bowl of Asparagus Soup that she had simmering, which we accepted without hesitation.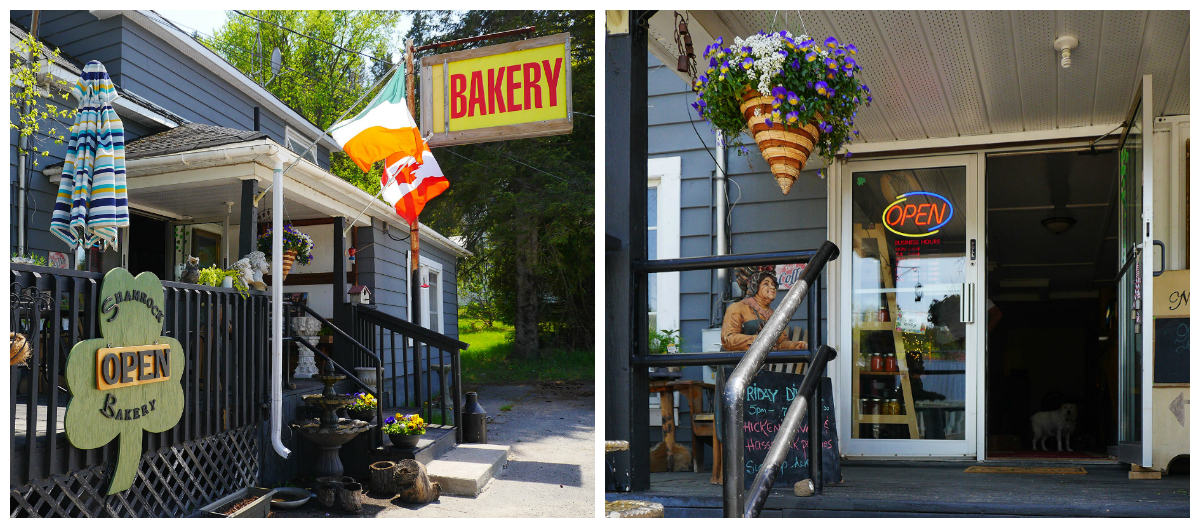 She also gave us a pair of her famous butter tarts and set up a nice little lunch for us. After sampling Nuala's food I can see why so many locals and travellers flock to the Shamrock Bakery each season. The soup was hearty, and had huge pieces of asparagus, and was bursting with flavour. The butter tarts not only looked beautiful, but were an eating experience all their own. The crust was delicate and flaky, while the filling was enough to make you second guess what you thought you knew about butter tarts.
Our delicious homestyle lunch, and incredible visit with Nuala made for a most splendid end to our adventure in North Frontenac. It is now my life's mission to go back - and try each and every dish in Nuala's recipe book. Especially her famous shepherd's pie.
Discover Limitless Potential #inFrontenac!
It would appear that we've reached the end of our first adventure in Frontenac County. This story represents but a tiny sampling of the numerous travel ideas, and unique experiences waiting to be discovered here #inFrontenac.
From scenic hikes, to cozy cottages, fine local dining, luxurious escapes and beyond - we'll be exploring several customized trips over the summer and can't wait to share our stories, and adventures! Heidi and I are humbled - and honoured to be working with The County of Frontenac, and that you've decided to tag along with us.
Until next time, keep wandering!