A wide range of trails intersect in Frontenac County, from our very own section of the K&P Trail to the Cataraqui Trail, and more. Exploring our trail network by bike is one of the best ways to get great views, visit our townships, and enjoy the natural landscapes.
Check out these pre-planned routes, each of which links to our Ride With GPS site, where you'll find a full map of the route, information on elevation, and points of interest alongside your cycle. Browse through our route library and learn about the best places to eat, shop, and rest!
Paul Galipeau describes the joy of a weekend of backcountry biking and camping in North Frontenac, laying out the perfect route, gear, and journey. Read more here!
Discover some of our favourite spots to grab lunch, coffee, and snacks in Frontenac County. Take a look!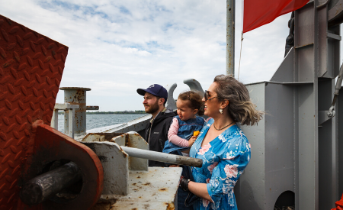 Consider taking the ferry over to Wolfe Island to explore local shops, waterside restaurants, and a beautiful view of the water. Click here to learn more.