Story by Aric McBay
Photos by Suzy Lamont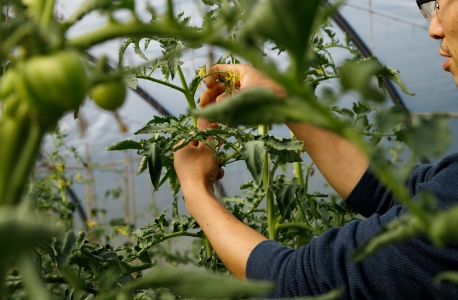 "It's exciting when you see a new vegetable come into season," says Jonathan Davies. "That's a big motivation."
Xiaobing Shen and Jonathan Davies run Long Road Eco Farm, just north of Kingston on Highway 38. There they cultivate their gardens and raise chickens, ducks, and pigs.
At the centre of their farm operation are the Chinese peasant foods that Xiaobing prepares. He makes "farm sum," including delicious steam buns filled with pork or vegetables, along with chili oil and fermented vegetables and tofu. The food is based on what Xiaobing ate growing up in rural China.
Neither Xiaobing nor Jonathan expected to become farmers. Jonathan grew up in Alberta, but not on a farm.
And when Xiaobing wanted to leave his Chinese village where he was born, his options were either to go to school or join the army. He chose school—and eventually moved to Canada to pursue a master's degree in engineering, which is how he met Jonathan.
They were living in Toronto when they began to question whether a high-stress, high-speed lifestyle was something they wanted. So they started to learn more about farming. "We were trying to bring back some sustainability to our lives," said Jonathan.
Xiaobing and Jonathan decided to buy a farm just north of Kingston and founded Long Road Eco Farm in 2013. Jonathan explains: "We saw other parts of Ontario, and some were affordable, but there wasn't as much to draw us, like cultural opportunities and markets."
"We had to figure things out pretty quickly. Looking back, it was kind of bold, there was an element of risk. But there was some kind of instinct: 'we can do this.' Whatever good or bad has come of it, it was a good decision. We've had some very rich experiences." - Jonathan
Xiaobing recalls: "We wanted to be somewhere close to an urban centre, to get more out of life, not just the farm." They also saw that Kingston had a strong local food movement, and other successful small farms. That choice has allowed them to enjoy a more balanced and varied lifestyle.
For Xiaobing, this includes time to make steamed buns, and to grow the ingredients. "Everyday, I mix some kitchen work with outdoor work," says Xiaobing. "So not to spend the whole day only in the kitchen, or only doing outdoor work."
They can also access the arts and culture that attracted them to the Kingston and Frontenac area in the first place. Sometimes they even host events, as Jonathan says. "We do some farm concerts or house concerts as a way of making it a social gathering spot."
"Farming is a way to get in touch with simpler things. The pace of our style of farming is much slower than a large scale, fully commercial kind of farm. That's something that both of us find important. I find there's a lot of dignity in that kind of agriculture, even as just a part of your life. There's a lot of resourcefulness involved." - Jonathan
Strong community makes farming more fulfilling, Xiaobing explains. "The farmers' market is a big part of my social life! Most days I stay at the farm, working alone. Meeting customers, that's the most exciting day for me."
"It's very small-scale farming," concludes Xiaobing. "There are different elements in the life, not just farming. We like to keep life interesting."
Where to get Long Road Eco Farm products: